Opening Ceremony Entertainment
Flippenout utilizes top professional athletes from all around the country. Skis, snowboards, Olympic type routines, and of course plenty of comedy are all part of the act. Our shows keep the hype up with our awesome soundtrack and is action packed from start to finish. You will see single, double, and even triple flips in every show. Every show ends with our world famous sky high belly drops.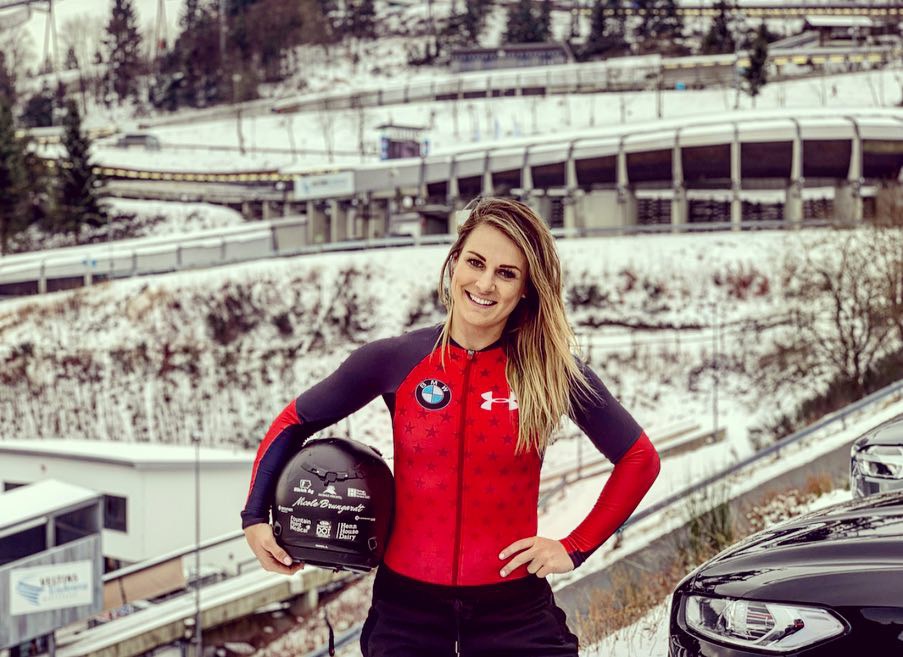 Special Guest
Nicole Brungardt, Oath of Athletes
Norfolk native and U.S. Women's Bobsled athlete Nicole Brungardt will lead the Oath of Athletes.
Brungardt was a standout athlete at Norfolk Catholic High School where she earned the Omaha World-Herald and Lincoln Journal Star Female Athlete of the Year Award in 2008. She later starred in both volleyball and track at Wayne State College. Her full bio and video story are available at TeamNicoleUSA.com.
Brungardt recently wrapped up a rookie season that saw her rise to a top-10 position in the world with a 9th-place finish in the two-man women's division at the World Bobsled Championships in Whistler, British Columbia.
Nicole played volleyball, basketball and ran track throughout her four years in high school and started on the varsity team in volleyball and basketball from her very first game as a freshman. Nicole led her basketball team to a state championship title her senior year and runner-up title her junior year in 2007.
Nicole won three gold medals on the North American Circuit her rookie season, making her an up-and-coming star in the sport of bobsled.
Opening Ceremonies Sponsors
Date & Time
Date: Friday, July 19, 2019
Time: 8 p.m.
Site: Seacrest Field (7400 A St, Lincoln – View Map)
Opening Ceremonies Program
SportFest (4:30-7:15 p.m. at East High School)
Gates Open at Seacrest Field (6 p.m.)
Staging For Parade of Athletes (7:15 – 8 p.m. Northwest of Stadium)
Parade of Athletes (8 p.m.)
Skydivers (Lincoln Sport Parachute Club)
Special Introductions
Presentation of Colors (Nebraska National Guard)
National Anthem
Oath of Athletes (Nicole Brungardt)
Entertainment Act – Flippen Out Trampoline Show
Mascot Challenge
Caldron-Lighting (Mystery Torchlighter)
Opening Declaration
Fireworks / Autographs (approx. 9:30 p.m.)
Event Details
Prior to the Opening Ceremonies, athletes and guests are invited to enjoy SportFest from 4:30 to 7:15 p.m. in and around East High School. Attractions include the athlete meal, compliments of Arby's of Lincoln, LinPepCo and Hiland Dairy, Exhibitor Booths, National Guard Chopper Display and a Lincoln Fire & Rescue Truck Display. At 7:15 p.m., SportFest closes and athletes move to the parade-staging area in the park between East High School and Seacrest Stadium.
The Opening Ceremonies begins with the traditional parade of athletes, sponsored by BNSF Railways. Here, the stars of the show, Cornhusker State Games athletes, get rock-star treatment, entering the stadium under a fogging archway, waving commemorative parade flags in front of the grandstands to cheers and applause before taking their seats in the east stadium.  The parade is traditionally led by a prominent sports figure crowned as the Parade Marshal.
Skydivers from the Lincoln Sport Parachute Club then make their entrance from above, followed by the presentation of colors by the Nebraska National Guard. The Star Spangled Banner will be performed by the winner of the state-wide National Anthem Contest, sponsored by Amigos/Kings Classic.
Athletes will then recite the Oath of Athletes, led by Team USA  athlete Nicole Brungardt, who will represent the USA Bobsled team in the World Championships.
Then comes the entertainment!  Flippenout utilizes top professional athletes from all around the country. Skis, snowboards, Olympic type routines, and of course plenty of comedy are all part of the act. Shows keep the hype up with an awesome soundtrack and non-stop action from start to finish. You will see single, double, and even triple flips in every show. Every show ends with world famous sky high belly drops.
Several lovable local mascots will be on hand for the annual CSG Mascot dash joining perennial Champion Sporty (Nebraska Sports Council).
The shining moment of every CSG Opening Ceremonies is the caldron-lighting by a mystery athlete, which is followed by the opening declaration from the CSG Honorary Chairman.
The Ceremonies conclude with a rousing fireworks display, sponsored by Runza.
KOLN-KGIN anchors Kevin Sjuts, Bridget Fargen and Bill Schammert will provide commentary on the field.
Admission
Registered Cornhusker State Games Athletes—FREE via their Athlete Pass, which is included in the athlete packet or team box.
A Spectator Pass for non-participants, which costs $15 and includes free admission to all CSG sport venues, can be purchased on site.
Admission to Opening Ceremonies alone is $10 for adults, $5 for students (6-18 years), free for kids 5 and under, and can be paid on site at entrance gates.
Non-athletes can also enjoy the SportFest athlete meal for $5 payable at the SportFest entrance.
Volunteer
Thank you for your interest in volunteering for the 2019 Cornhusker State Games SportFest & Opening Ceremonies! 
CLICK HERE to view the current volunteer opportunities available!
As plans come together, you will be contacted by one of our management team members with assignment details. Please be patient, as the volunteer assignment process is very time-consuming. With nearly 2,000 volunteers, our team of volunteer managers will be extremely busy over the next several months.
If you have any questions, please contact the Cornhusker State Games office at info@nebraskasportscouncil.com.
Mailing address: 
Po Box 29366
Lincoln, NE 68529
Shipping address:
3260 Folkways Blvd Suite B
Lincoln, NE 68504