Quick Links
General Information
DATE:
Saturday, July 17, 2021
LOCATION:
Branched Oak Lake – View Map
EARLY REGISTRATION CHECK-IN:
4-7 PM Friday, July 16 at Cycle Works
TIMES:
The race will begin at 7 am.
All riders must be present at least 15 minutes before the start of their race for important pre-race announcements.
Distances & Routes:
100K*
40K
*All distances are approximate until routes are finalized
POST RACE MEAL: A post-race meal and drink will be provided to all participants.
Caseys' Points Championship (participation optional)
100k x 4 plus CSG Gravel Grinder – Competitive Points Series
Awards – Gold, bronze, and silver medals, and Casey's Prize Pack to the top 3 male and top 3 female participants.
Casey's gift cards awarded segment leaders and by random drawing each month
TECHNICAL ASSISTANCE: Support stations will be located along the route. Support stations will have water, fruit, and snacks to refuel.
RULES: All riders are required to wear helmets, carry cell phones and enough water for 30 miles. Bikes must be equipped with a headlight, red tail light and a properly calibrated cycling computer. This is a self supported race meaning no outside help from a support crew is allowed.  See complete rules sheet at CornhuskerStateGames.com.
ROUTES: Routes will be held on county roads around Lincoln. Maps and downloadable GPS routes from Ride With GPS will be available at CornhuskerStateGames.com once routes are finalized, and will be provided to each rider on the week of the race.
NEW! Casey's Points Series
New for 2021 – Casey's Point Series
Entry is included with CSG Gravel Grinder Registration
Riders must register for the CSG Gravel Grinder prior to completing a solo ride
Casey's Points Series participation not required to compete in the CSG Gravel Grinder
The Casey's Point Series will consist of 4 solo rides beginning in March and the CSG Gravel Grinder. One solo route will be issued each month during the months of March, April, May, and June. The route must be completed during the month of issue and riders can complete the route more than once. Only the fastest time will count. Completion of the route will be determined by the use of Strava and the leaderboard for each route. The points series will culminate with the in-person CSG Gravel Grinder. The points series Champions will be determined by points earned from 3 of the 4 solo rides, combined with points earned at the CSG Gravel Grinder. So each participant and can drop their lowest points route. Participation is required at the CSG Gravel Grinder to win the Casey's Points Series. Each month the route will incorporate a stop at a Casey's on the route to rest and refuel. Routes will be issued 2 days before the 1st of the month.
March Route:
March Route closes April 17th at 11:59 pm.
March Route Link https://ridewithgps.com/routes/35185220
Cue Sheet
March Leaderboard Link https://ridewithgps.com/segments/1206745
April Route:
April Route closes May 9th at 11:59 pm.
April Route Link https://ridewithgps.com/routes/35562073
April Leaderboard Link https://ridewithgps.com/segments/1216121
May Route:
May Route closes June 13th at 11:59 pm.
May Route Link https://ridewithgps.com/routes/35722869
May Leaderboard Link https://ridewithgps.com/segments/1226408-csg-may-casey-s-points-series-leaderboar
June Route:
June Route closes July 11th at 11:59 pm.
June Route Link https://ridewithgps.com/routes/36003586
June Leaderboard Link https://ridewithgps.com/segments/1229934
Points calculations: All riders earn 10 points for participation in each route. In addition, riders will earn points based upon the number of riders that complete each route. Example: 40 riders complete the route for one month. The rider at the top of the leaderboard will earn 10 points plus 40 points for each rider for a total of 50 points for the month. The second-place rider would earn 49, third-place earns 48, and so on. Any rider that didn't finish, but attempted the route earns 10 points. This system rewards riders at the top of the leaderboard based upon the level of overall participation. The more riders below you on the leaderboard the more points earned. The Casey's Points Series champion will be determined by combining points from 3 of the 4 solo routes plus points earned in the CSG Gravel Grinder. The Casey's Points Series leaderboard will be updated and posted to the CSG Gravel Grinder event website. The top 3 male and female participants will be awarded following the CSG Gravel Grinder.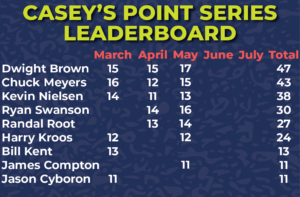 Casey's Point Series Rules: The rules are simple. Ride the bike you prefer. Link your Cycling GPS to RideWithGPS or manually upload your file to RideWithGPS. We will use Strava as a backup, but the official leaderboard will be on RideWithGPs. Ride alone or in small groups (No Drafting). Stay on route. Have fun!
Events
100K Route: Approximately 62 miles. 7 hour time limit. Competitive, timed race.
40K Route: Approximately 25 miles. Non-competitive ride.
Event Name
100K Route
Men Open
Men Masters (50+)
Men Single Speed
Men Fat Bike*
Women Open
Women Masters (50+)
Women Single Speed
Women Fat Bike*
Tandem Open
Bronze Route
Non-Competitive Ride
*Fat Bike is considered anything with more than 3.5" wide tires on 50mm or wider rims.
Gravel Grinder Rules
CSG Gravel Grinder Rules:
The Cornhusker State Games Gravel Grinder is a self-supported dirt road race. This means you are responsible for yourself while on the course and may not receive aid from any non-competitor at any time on the course, however stopping at any public business such as a gas station to resupply is acceptable.  Basically, you cannot have a support vehicle on the course for any reason unless you chose to drop out of the race.  If you do have a support vehicle on the course it will be assumed that you have dropped out of the race resulting in a DNF.  There will be several support stations along the course. Stations will provide water, fruit, and snacks for you to refuel.
Plan to carry enough water to make it 30 miles between support stations. 
 
The 100K route will be a timed race and medals will be awarded to the top 3 finishers in each division. If you are not interested in racing or just want to see what gravel grinders are all about we are offering a 40K Route. Completion medals will be handed out to everyone who finishes before the cutoff time.
 
All participants must obey all city, county, state, and "rules of the road." You are responsible for your well-being and decisions while on the course. If you break down or are injured your first call should be to your support crew to come rescue you. We will make every effort to provide assistance, but resources may be limited and we may not be able to help in a timely manner. If for any reason you exit the race you must also let the race director know. Participants may help other participants with support along the racecourse.
 
The course will take place primarily on gravel county roads with some sections of pavement and minimum maintenance roads. A course route and profile will be provided for download from www.ridewithgps.com a few days prior to the race.  The course will pass through several small towns and riders are welcome to stop for a break if they wish, but keep in mind there is a time limit to receive a completion medal. Riders must follow the course route at all times. Short cuts are not allowed. If you leave the course for a nature call or convenience store break you must re-enter the course at the same location.  Cutting the course will result in a DNF.
 
Riders are required to have the following items at the start of the race; a helmet, a properly calibrated cycling computer, cell phone, and water bottles. GPS is not required but is allowed if you chose to download the course route. Cue cards will be provided at check-in. Other suggested items include; headlight, red tail light, air pump or
CO2, patch kit, spare tubes or tires, snacks, cash/credit card, food, and tools.  Participants must complete the race on the same bike/frame they started with. 
Registration Fees & Deadlines
IF REGISTERED BY THE FINAL DEADLINE:
$73 per rider until July 11
MULTI-EVENT CYCLING DISCOUNT: All Gravel Grinder participants who register for Mountain Bike, and/or Tour will receive a $7 discount per additional event by entering coupon code CYCLE at checkout. All registrations must take place on the same transaction to receive the discount.
ENTRY FEE INCLUDES: Competition in the 2021 Cornhusker State Games; White cotton athlete shirt (micro-fiber or soft cotton lightweight tri-blend upgrade available); Sponsor gifts and coupons.
PAPER ENTRY FORMS: Paper entry forms will be accepted with a $5 processing fee. Registering online saves time, money and trees.
Athlete Packets
Athlete packets will be shipped directly to the athlete at no extra charge.  Packets will not be available for in-person pickup. Packets include athlete shirt and one free Arby's sandwich certificate per person. Athletes will receive their packet prior to competition.
The athlete packets DO NOT contain any sport specific information such as schedules, maps, bib numbers, etc. For sport-specific details, refer to your sport General Information.
Opening Ceremonies
JOIN US AT THE OPENING CEREMONIES ON JULY 16!
The show begins at 8 p.m. at Seacrest Field, Lincoln!
Admission is FREE!
OPENING CEREMONIES PROGRAM
• Parade of Athletes
• Skydivers
• National Anthem
• Oath of Athletes
• Mascot Showcase
• Super Retriever Series Demo
• Mystery Torchlighter
• Fireworks
The Opening Ceremonies will be televised statewide by News Channel Nebraska.
For more details regarding Opening Ceremonies, please refer to the Opening Ceremonies web page.
Further Information
Sport Specific Questions: Contact Gravel Grinder Director Jason Cyboron at Jason.cyboron@gmail.com or 402-610-1742.
To Sponsor a Check-point: Contact Gravel Director Jason Cyboron.
Online Registration/Website Questions: Contact the Cornhusker State Games office at 402-471-2544 or info@nebraskasportscouncil.com.
Thank You to our platinum sponsors
Mailing address: 
Po Box 29366
Lincoln, NE 68529
Shipping address:
3260 Folkways Blvd Suite B
Lincoln, NE 68504