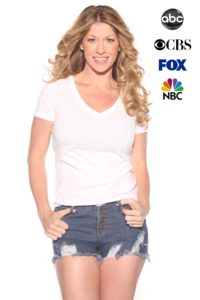 For Sara Sutherland, staying active has always been one of the No. 1 things in her life. Ever since she can remember, Sutherland has competed in volleyball, softball, basketball, and track and field.
Sutherland will compete in track and field at the Cornhusker State Games this summer.
The 40-year-old from Aurora has been involved in the Cornhusker State Games since 1995. Growing up in rural Nebraska allowed Sutherland to participate in various sports. When it came to competing in the Cornhusker State Games in high school, everything was volleyball for Sutherland and her friends.
"Besides volleyball and the camaraderie with my teammates, the most notable CSG memories were the Opening Ceremonies," Sutherland said.
Once Sutherland graduated from Aurora High School, she knew she wanted to compete in collegiate athletics, so she decided to attend Northwest Missouri State University on a track and field scholarship.
"Aurora was a great place to grow up in; my parents and grandmother graduated from high school here," Sutherland said. "But by the time I graduated high school, I was ready to spread my wings and go somewhere different."
In college, Sutherland was a 7-time All-Conference thrower in Shot Put, Javelin, Hammer, and the Indoor Weight. She missed playing volleyball, so she walked on to the volleyball team during her sophomore year.
After college, Sutherland moved to the Kansas City area, where she continued to play volleyball on the court and in the sand — it didn't matter. She found a basketball league and competed in the Corporate Challenge, participating in events such as volleyball, softball, and shot put.
After 13 years of living in Kansas City, Sutherland and her husband decided to move back to Aurora.
"Part of the reason we moved back to Aurora was because we wanted to raise our four kids in this community," Sutherland said. "I remembered all of the opportunities that I had being from a smaller town with chances to get involved with things."
While living in Kansas City, the Cornhusker State Games didn't often cross Sutherland's mind until she saw her friends getting involved on social media.
"Every time summer rolled around; I would see my friends participating in Cornhusker State Games events," Sutherland said. "Competing again never crossed my mind; I just had all these wonderful memories from when I was younger."
Sutherland's main thing in life is encouraging people to be active. With over 240K followers on Instagram, Sutherland uses her following to motivate her audience and give them a purpose when it comes to staying healthy.
"I try to work hard on being consistent with my message on social media," Sutherland said. "A lot of it is understanding what specific content interests people and how to speak to the audience on the other side."
This year's Cornhusker State Games Opening Ceremonies is set for Friday, July 15. The show begins at 8 p.m. at Seacrest Field in Lincoln. Registered athletes who come early from 4:30 – 7 p.m. can enjoy the free athlete meal at Sports Fest. Cornhusker State Games Track and Field takes place on Saturday, July 16 at the Lincoln High School Track.
Find more information at https://www.cornhuskerstategames.com/.
"I have been so impressed with how the Cornhusker State Games has evolved since I was a kid," Sutherland said. "There really is something for everyone."