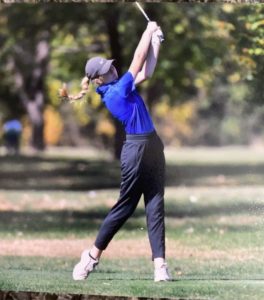 The game of golf takes patience, determination, and confidence. For 16-year-old Avery Van Horn, she is willing to do whatever it takes to reach her full potential.
The Lincoln East junior started playing golf when she was 13 years old, before her freshman year. "I started playing golf because of my family. My grandparents always used to go out and play, and once I started playing, I enjoyed it," said Avery.
Besides seeing her improvement on the course, Avery loves being around the Lincoln East team and meeting golfers from across the state. Avery describes the golf community as a tight-knit group. "All the players are so nice. I love the team environment as well. A lot of my friends are golfers from other cities," Avery said.
Despite only playing golf for three years, Avery was on the varsity team at Lincoln East for her freshman and sophomore years. Avery was a part of the Lincoln East team that placed eighth at the NSAA State Meet in 2020 and were the conference and district team champions. Avery was also an all-conference golfer.
Avery has seen her game improve a lot in the short time she has been playing. "I cut off about 15 strokes in between my freshman and sophomore year", said Avery. She attributes her rapid success to her strong work ethic. "I am proud of my work ethic. I usually practice for two hours a day. I enjoy getting on the course and improving my game", Avery said.
As of now, Avery thinks her mid-range game is her strength. She wants to work on her driving distance to become a complete player over the next couple of years.
One part of the game that she is always looking to improve is the mental aspect. "Golf is a big mental game. If you are struggling with confidence, it can be tough," said Avery.
Avery has some big goals she would like to accomplish in her remaining time at Lincoln East. Avery would like to get top 10 at state, place third as a team at State, and eventually play golf at the Division One Level.
This year will be Avery's second year competing in the Cornhusker State Games, but her first time in the youth golf event. "I love playing in various tournaments so that I can work on my game," said Avery. Besides playing in the fall for Lincoln East, she also plays in the Nebraska Junior Golf tournaments during the spring and summer. She is also looking forward to meeting other golfers from around the state.
Coming into the State Games, Avery is excited to see progress both on and off the course, as she is gearing up for the future.