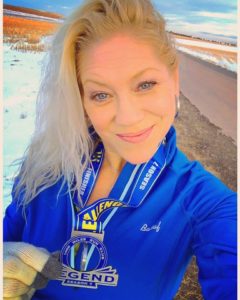 Jodi Kimmel uses running to help her become the best version of herself. She has transformed her mindset from thinking that running was boring and time-consuming to running being her entire life. And now she is out to inspire others to run until their heart's content, just as she has.
Kimmel didn't spark an interest in running until 2012 when, at age 34, she moved to the country and quit smoking. The now 42-year-old lives on a farm in Alliance and runs on country roads every day–rain, snow or shine.
She runs in all conditions at any time of day. She sometimes gets up at 3 a.m. and runs into town. Kimmel has remained consistent with running through the birth of her children and all other obstacles life has thrown her way. "It's a habit now that if I don't run every day, I feel like I didn't accomplish something," she said.
This journey all started when one day Kimmel began running from light pole to light pole down the road. At the time, she couldn't make it very far, but she became better over time. She told herself, "If I could get to the next pole, if I could get to the next pole" repeatedly, and before she knew it, she was able to run miles.
Kimmel's main motivation for running is to run for those who can't. She often thinks about her late brother, who was paralyzed and unable to run himself, while running. She also runs for her mother, who was diagnosed with lung cancer and had breathing difficulty that prevented her from doing anything that raised her heart rate. Her mother's condition is also the reason Kimmel quit smoking. She has the mindset that she was chosen to run for those that don't have the ability or opportunity to do so themselves.
The mother of four also runs to be a good role model for her kids in showing them the importance of taking care of your body. When it comes to balancing life with all this running, Kimmel gave a shout-out to her husband for always working around her running and helping her get in as many miles as possible. She views running as a therapeutic experience and a chance to have some alone-time.
Kimmel ran in her first-ever Torch Run on June 1, 2020. She ran five miles for Box Butte County. Since she lives in a rural area, she participates in a lot of virtual races and the Cornhusker State Games Virtual Torch Run intrigued her. She was excited to represent her county, share her love for Nebraska and use the Torch Run to push herself farther this summer.
One of the best things about running for Kimmel is the people that she has met. "Runners are amazing individuals," she said. She loves to share her fitness journey with others and admires that runners help support one another to help each other reach their running goals.
Kimmel is super competitive and is always pushing herself to the max. "I compete against nobody but myself," she said. She participates in organized running challenges to set daily goals for herself. The one she is currently doing is running five miles a day for 80 days. She is also in a running group that pushes each other to stay active and they collectively run 1,000 miles a day.
With all this running came significant accolades for Kimmel. She has participated in three virtual half marathons and in December of 2019, became an ambassador for Baleaf Sports. Asics has used Kimmel's running video on their social media accounts to encourage others. Yaktrax has featured her winter running video to inspire other athletes to get out and run during the cold months.
"Running has just made me extremely happy," she said. Kimmel will continue to run for as long as she can, as it has been such a positive change in her life. She looks forward to what the future holds and sharing her motivational story with others.
---
Registration is currently open for the 2020 Cornhusker State Games. Featuring competition in 70 sports, participants can find more information and register online at our 2020 Sport Listing