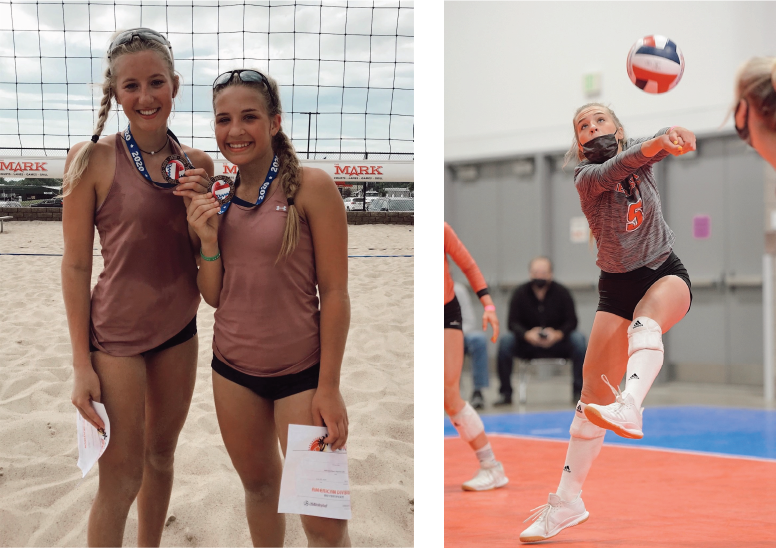 (Left: Erison, Right: Presley)
For Presley Liberty, Volleyball is not only a sport she loves; it is also a sport in which she thrives.
The Bellevue West senior knew she loved Volleyball at a young age. The 16-year-old from Papillion started playing Volleyball when she was nine years old. She first played recreation, and then she got into club Volleyball, and her love for the game began to grow. "I started as a competitive dancer, so Volleyball was mainly for fun, but as I started playing more, I got a lot better, and I fell in love with it," Presley said.
Her love for the game stems from her competitive drive. "I love the competitiveness, and Volleyball gives me a distraction from the world," said Presley.
As her passion for Volleyball grew, she wanted to try something new, Sand Volleyball. The Bellevue West senior started playing Sand Volleyball four years ago when Presley and her cousin Erison Vonderschmidt of Falls City teamed up as a tandem on the sand.
Over the years, Liberty and Vonderschmidt have been a dynamic duo on the sand. The team has won gold in the Cornhusker State Games Sand Volleyball tournament multiple times. Also, they have placed in the top three at numerous Sand Volleyball tournaments in Nebraska. In addition, they made it to the 2020 Jr. Beach Nationals in Alabama. The team has already qualified for the 2021 Beach Nationals. What is even more impressive about their success is that they can never practice before a tournament. "Since we live about two hours away from each other, we never get to practice. We show up at a tournament ready to play. We both have different skill sets so that we can play well together," said Presley.
Presley also has some impressive accomplishments as an individual player. In her Junior year (2020), she helped the Thunderbirds to their first NSAA State Tournament birth in 13 years. She was selected all-state by some newspapers. Presley is one of the top-ranked Nebraska high school Libero's heading into the 2021 fall season. She is also committed to play Volleyball at Columbia University in the fall of 2022, where she will pursue a career in the medical field.
For Presley, Sand Volleyball has allowed her to improve her overall Volleyball game. With Bellevue West and her club team, Presley plays the libero position. "Beach Volleyball is a lot different than Indoor Volleyball. With Beach Volleyball, you have to have all the skills, hitting, digging, and setting; you have to know how to do everything," said Presley.
This year will mark Presley's fourth year competing in the CSG Youth Sand Volleyball tournament. She loves the CSG Beach Volleyball because it gives her another opportunity to develop her overall game.
One of the main reasons Liberty and Vonderschidt continue to play Sand Volleyball is to remember a loved one. "In 2017 at the CSG, her (Erison) brother, my cousin, passed away, and that was the last time I saw him. For this year (2021), it falls on the anniversary, so we are going to wear t-shirts in honor of him," said Presley.
As Presley prepares for the State Games, her senior year at Bellevue West, and her freshman year at Columbia, she has one goal in mind; to grow in every aspect of the game, physically, emotionally, and socially.