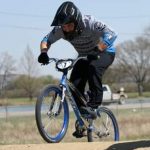 For Todd Kay, BMX Racing is not only a sport he loves; it's a way of life. Originally from Levittown, New York, the 50-year old grew a passion for the sport at a young age. Back in 1984, when Todd was 14, he began competing and fell in love with the sport.
One of the things that compelled him to try BMX was "the sense of individualism and community," said Todd. BMX Racing gives Todd a thrill unlike any other. "When you're on a BMX track with up to seven other riders, it is extremely exciting. I love riding into the first corner, elbow to elbow with potentially three or four guys next to you, wondering who's going to come out of that first corner. That is the fun part," he said.
Like so many other sports, there is an individual aspect and a community appeal. Todd explains that the BMX community resembles a family. Some of his best memories from racing are meeting other riders locally and across the U.S.
Not only does Todd race BMX competitively, he is also a coach of a local team called Chase RSP Team from Chase Bicycles. Todd loves to serve others and help grow the sport of BMX racing in his community. Besides racing competitively and coaching a local group, Todd works at a local bike shop called Greenstreet Cycles in Omaha, Nebraska.
Todd moved to Omaha, Nebraska, back in 2007. He took a break from full-time racing for a short time, but then in 2011, he decided to start racing again. This time it would be in the Cornhusker State Games. Ever since 2011, Todd fell in love with the CSG. Because of his passion for BMX, Todd served as the BMX Racing Sport Director for five years. He loves the CSG because of the "sense of community." When he was the BMX Racing Sport Director, he remembers "going to the meetings and seeing how many sports directors there were. I didn't realize how many other sports were involved. It was such a joy to be involved in the CSG with other people who have an equal passion for their sport, which I love to see".
Throughout his years of BMX Racing, Todd has had some incredible accomplishments. He has won multiple state titles, a second and third-place finish in the US BMX Gold Cup regionals, getting top three in every CSG he has competed in, and winning two gold medals in the CSG. Todd's goal for this year is to earn a gold medal in the US BMX Gold Cup regional. For this year's CSG, he plans to race in the 20- and 24-inch BMX Racing classes.
Like any other sport, constant training is a crucial ingredient to success, especially for BMX Racing. For BMX Racing, "training is ongoing; you get out and ride as much as you can to stay sharp for your bigger races," says Todd. He said he tries to get on the course as much as he can.
As Todd prepares for the CSG, he looks forward to competing in the sport he loves and being part of the BMX and CSG community.