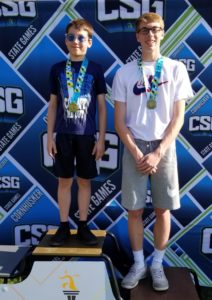 The Martens brothers have been running track together since they can remember. Marcus Martens, 13, and his brother Andrew Martens, 17, are avid track lovers. They continuously push each other with brotherly competition to be their best.
They are originally from Sioux Falls South Dakota and now reside in Lincoln Nebraska. They both got into track at a young age and have loved the sport ever since. Andrew got introduced to the sport at age nine and Marcus at age six.
When it comes to track, Marcus focuses more on doing well than the competitive aspect. He really wants to be the best that he can and learns from each race in which he competes. For Andrew, he likes that there is always something to work toward and that you can continually get better and faster. For the brothers, one of the best things about track is that you get to meet a lot of great people, and it's just a great experience overall.
At the Cornhusker State Games (CSG), Marcus will be competing in the 100 meters, 200 meters, and 100-meter hurdles. For Marcus, the CSG is the biggest track meet that he has competed in, and he is looking forward to coming back. Andrew will be competing in the 400 meters and 110-meter hurdles at the Games. The brothers both expressed that they participate in the CSG because it is a way for them to stay competitive and active over the summer.
Marcus looks forward to seeing how he will do against other people at the CSG. Andrew looks at it as another opportunity to compete and better himself as an athlete. Although they have different outlooks and goals when it comes to the sport, they both just like doing what they love.
The Martens brothers have both had great experiences at the Games and have raced with so many different people.
The two brothers truly want each other to improve. "We push each other so much," Marcus said. By watching each other race, they can push one another to be more skilled athletes. Andrew is always giving Marcus tips on small things to improve on so that he can be the best that he can be.
Andrew expressed that he is very competitive and that there is "always room to be more competitive, and there is just always another goal that you can achieve," he said. This competitiveness has brought him success, including a high school state championship last year in the 110-meter hurdles at Lincoln High School.
The Martens brothers hope to continue to support each other to be the best that they can. They are looking forward to this year's Games and are working toward competing together again.
---
Registration is currently open for the 2020 Cornhusker State Games. Featuring competition in 70 sports, participants can find more information and register online at our 2020 Sport Listing