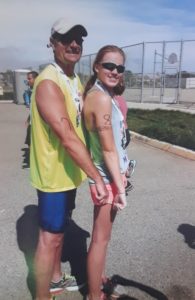 After his first go at the Cornhusker State Games (CSG), Jeff Berg became hooked. "There are so many events and something for everybody. It is so cool," he said.
The 57-year-old from Tennessee decided to participate in the Games in 2017 after moving to Lincoln for a job. Berg had never been to Nebraska before and wanted to compete in the Games to be a part of something in the community.
Berg recently moved to California and never unsubscribed from the email list. After discovering the triathlon was modified into a virtual biathlon this year, he was thrilled. Berg asked to participate in the event in the state of California, and his request was granted.
The 2020 CSG will be his 2nd year competing. Berg loves the overall concept, which is why he decided to participate again even in a different state. "The fact that there are so many things available that people are able to do and the fact that it pulls the whole state together to get involved, I think it's amazing," he said.
Berg has been athletic his entire life and has done many different sports. At age 40, he developed an interest in triathlons and the unique attribute of doing three sports in one. He enjoys it, and it's a way for him to stay active.
Berg takes it day by day for training. "If I get up that day and feel like going swimming, then I go swimming," he said. The athlete tries as hard as he can in each competition and participates both for fun and to stay in shape. His main competition is himself, as he tries to beat his own times.
One of Berg's most significant achievements is getting his niece hooked on the sport too. She came to visit and did a triathlon with Berg five years ago when Berg lived in Tennessee. It was her first one, but she loved it so much and stuck with it. Now she has a scholarship to East Tennessee State University, where she is a varsity athlete on the triathlon team. "If nothing else, that is the greatest thing that came of this," Berg said.
He now participates in a few triathlons each year. "I love it. I love the lifestyle; it's just amazing and so much fun," Berg said. Getting out and being active all while having three different things to participate in is great. Berg has always not liked being dedicated to any one sport, and a triathlon allows him to do multiple.
He loves the motivation of looking forward to a race a few months ahead of time and training for it. He is not super serious when it comes to training, but trains hard for each section. As a resident of California, Berg utilizes the ocean to practice swimming. Because of this, swimming is his strongest portion of a triathlon.
With everything going on in the world right now, Berg is happy that the event is still being held virtually and he can do it from California. "To be able to do something still and be involved in some way through this is wonderful," he said. It's as good as it can be.
There are times when he is riding his bike or running and thinking to himself that it is horrible, but then he thinks about the positives and being happy. "I'm the luckiest guy in the world to be able to do this," Berg said.