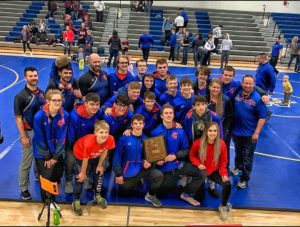 When it comes to wrestling, it's all about passion for Rob Pilcher. As the varsity wrestling coach at Platteview High School, Pilcher's love for the sport has gone beyond just competing.
At the young age of 6, Pilcher started his wrestling career and hasn't looked back since. He was smaller than most other kids his age but quickly grew to dominate at the sport.
"Wrestling was the best fit for me," he said. Pilcher enjoys the one-on-one aspect of wrestling and knowing that what you do is of your own ability and skill set.
Pilcher went to Millard South High School and then continued his wrestling career at the college level. He attended Dana College and Briar Cliff, where he was an All-American wrestler, and his love for the sport deepened.
Pilcher's adoration for the sport has allowed him to share it with others. At Platteview, Pilcher said he has been "building a culture of wrestling where there was none."
This past year has been his most successful coaching year to date. Pilcher puts his blood sweat and tears into coaching. He does have to sacrifice some of his free time, but he gets to do what he loves most.
While coaching a varsity wrestling team, Pilcher also advocates for making girls wrestling a sanctioned sport on the high school level. He is on the national committee for the Girls Wrestling Organization.
Two years ago, he started Platteview's first girls wrestling team. Currently, girls who wrestle do have to compete against both girls and boys, but Pilcher is working towards girls being able to just wrestle other girls. He is hoping the vote will go through to make it a sanctioned sport in 2020 as it lost by only one vote last year.
The 2020 Cornhusker State Games will be Pilcher's 21st year competing. He has competed in the Games every year since 1997, with the exception of two years due to his service in the National Guard. Over his CSG career, he has earned more than 100 medals and, in 2005, was named Athletes of the Year for both the Cornhusker State Games and the National Congress of State Games.
He will compete in all six events offered to get as much wrestling in as possible. He has placed at the Games 20 years in a row and hopes to continue the streak this summer.
---
Registration is currently open for the 2020 Cornhusker State Games. Featuring competition in 70 sports, participants can find more information and register online at our 2020 Sport Listing