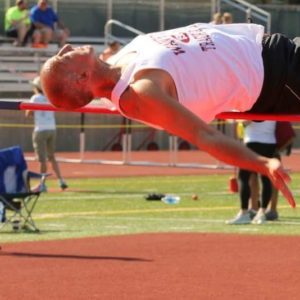 From his days as a successful high school and college athlete, 55-year-old John Otte has carried his passion for track and field with him all these years. The Waverly, Neb. man is still doing what he enjoys today.
What started out as mere conditioning in the 8th grade is now a passion for track and field. Otte discovered high jump as a freshman at Waverly High School. He was the first person there to qualify for State Track and Field as a freshman. By his senior year, he was the Class B State High Jump Champion, successfully clearing a height of 6' 8".
After his successful high school career, Otte went on to compete in the sport at Hastings College. He was able to continue competing and to this day, still has the same excitement for the event. "The thing I like about high jump is it's you against the bar," Otte said.
It's all about the journey for him. Even though high jump is considered an individual sport, he has built so many friendships along the way. Everyone is always there cheering each other on at each event.
What Otte loves most about the Cornhusker State Games is seeing so many athletes that he has previously competed with continuing to participate. "Those friendships that you made 30 years ago get rekindled," he said.
Otte first competed in the CSG in 1985. He then moved to Massachusetts, and when he came back to Nebraska in 2017, he started where he left off and took the opportunity to compete in the CSG again. He was happy to see that a lot of the people he competed against in college were still involved.
To prepare for the CSG, Otte does a sufficient amount of training. He explained that he does a lot of jump rope and plyometrics. He also focuses on running, particularly sprints, to stay in shape and keep competing.
Otte is competitive but now competes more for fun and to build relationships with other athletes. "Now it's more about cheering on the other 50 year-olds," he said. Otte likes to give back to the sport as high jump has given him so many opportunities, friendships, and memories.
Otte is looking forward to competing in this year's Games and being alongside other athletes that love to do what he does. "I want to do the best I can more just to say I did it and still can do it," Otte said. For this reason, he continues to train, compete, and enjoy the benefits of the high jump event.
---
Registration is currently open for the 2020 Cornhusker State Games. Featuring competition in 70 sports, participants can find more information and register online at our 2020 Sport Listing