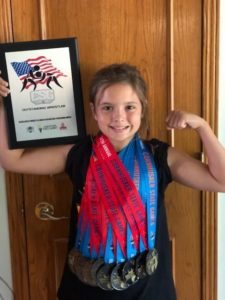 Passion, influence, and ambition are the three things that jump-started Maycee Peacher's wrestling career.
As a female wrestler from Bennington, Peacher found an interest in the sport at a young age from sitting at wresting tournaments and watching her two older brothers compete. This interest quickly escalated into her "mess-around" wrestling on the mats with other kids and eventually, becoming a competitive wrestler herself. Her mother expressed that Peacher was "tired of just watching her brothers wrestle, so she wanted to do it, too."
Peacher was always super competitive about wrestling, which leads to her success in the sport. Her mother saw how into wrestling she was, and she wanted to get her involved. The club for which her brothers wrestled didn't allow girls, but she found a way for Peacher to wrestle.
Her mother discovered a club that would allow her daughter to wrestle. At the time, Peacher was the only girl, but by the end of the year, a lot of other girls wanted to wrestle as well. "Maycee quickly became a role model," her mother said. Now she competes against both boys and girls.
The now 7th grader at Bennington Middle School also wrestles for the school. Girls wrestling has grown immensely over the last few years, giving Peacher more competition. She trains collectively 4-5 times a week. With the extensive training she has had, Peacher is very skilled at the technical side of wrestling and can offset her strength with this attribute. This advantage allows her to compete against so many different people.
When it comes to wrestling both boys and girls, sometimes Peacher is given a hard time. Peacher expressed that sometimes the boys she wrestles don't take her seriously and that she catches them off guard. "When Maycee steps on the mat, she doesn't care if her opponent is male or female, she is just extremely competitive and is out there for one reason, and that is to win," her mother said.
Peacher continues to train for her club, school, and the Cornhusker State Games. She has competed in the CSG for four years. She likes the opportunity to compete in so many matches and different styles in one weekend. She can wrestle so many different kids, no matter their gender. Peacher always wants more experience and time to do what she loves. Last year she won 21 out of 24 matches at the CSG against both boys and girls.
One of her most significant accomplishments is being the 2018 CSG and National Congress of State Games Female Athlete of the Year. She will soon compete at the United World Wrestling Trials (UWW) for 15 year old's, for a chance to make it on the U.S. world team at the age of 12.
She travels the country to wrestle, which allows her to gain more experience. One of her goals is to be the first female in Nebraska to win boys state in high school as girls wrestling is not yet sanctioned.
Peacher is up for wrestling anyone but does want the sport to get sanctioned on the high school level. With this higher level comes higher risk. For this reason, Peacher wants other girls to go out and experience the rush of wrestling as she has. Peacher can't wait to compete this July and continue to do what she loves.