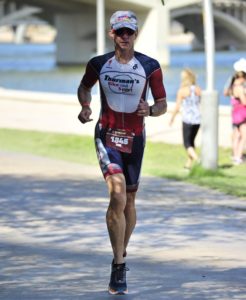 From his days running track at the University of Nebraska-Lincoln, Jim Thurman has always been a competitive athlete. Since his college days, however, the former trackster has shifted gears and now uses his competitive drive in the multi-faceted sport of triathlon.
The 56-year-old from Nebraska City started competing 10 years ago when a friend convinced him to participate in a small triathlon. From that moment on, Thurman was hooked and has continued his triathlon journey ever since.
Thurman's track career at UNL was "a great learning experience," he said. There he competed in the hurdles and 800 meters. Because of this experience, Thurman has had a lot of practice with the running portion of the race. However, he has had to work on his long-distance speed and endurance. He has always been good at cycling, and after competing in a few triathlons, he discovered that he was a pretty good swimmer as well.
This year will be Thurman's 4th year competing in the Cornhusker State Games. "It's a great atmosphere," he said, and that's the reason he keeps coming back. Each year, his passion for the CSG and triathlons deepens. To be able to succeed in all three sequences of the race, Thurman trains diligently prior to the Games.
He trains not only to continue competing but to stay in shape. Even with a busy work schedule, Thurman finds time to practice. He goes swimming before work in the morning. After work, he goes running to relieve stress. Thurman also tries to get in 10 to 12 hours of sprint training a week. This training helps him reach his goal of finishing in the top 10 overall of each race. He also tries to be 1st or 2nd in each division of every race in which he competes.
All of this training has paid off as he has completed a couple of full Ironman Triathlons. These races consist of a 2.4-mile swim, a 112-mile bike, and a 26.2-mile run and typically take 11 to 12 hours to complete.
All the races in which Thurman has participated have been worth it to him no matter the level of difficulty. If it's easy, it's practice, and if it's hard, it's a challenge. "I have found that my mental health is better and my physical health also," he said.
After finding this adoration for triathlons, Thurman also found an urge to teach and motivate others to compete. He has always been very involved in youth sports and started his own track team in Nebraska City. The team consists of 150 elementary school-kids that share a passion for sports just as Thurman does. This program is not only a team but a mentoring program for kids.
With this program, Thurman helps motivate younger athletes. "At the same time, I really find that the younger athletes motivate me to push myself harder," he said.
Most recently, Thurman joined the Peru State Men's and Women's Cross Country teams as an assistant coach.
The impact of sports on Thurman has gone beyond just competing. He and sports go hand in hand as he looks forward to this year's CSG. He hopes to compete in triathlons and be active for as long as he can, as nothing compares to the feeling of crossing the finish line.
---
Registration is currently open for the 2020 Cornhusker State Games. Featuring competition in 70 sports, participants can find more information and register online at our 2020 Sport Listing