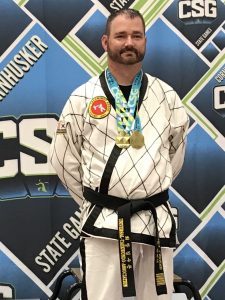 Self-confidence, courage, and dedication are three words that describe Shawn Labadie's love for Taekwondo.
Born in Massachusetts, the 49-year-old Lincoln resident was inspired to try Taekwondo when his brother started Karate. At age 30, Shawn had the opportunity that he was always looking for, to compete in Martial Arts. "My wife knew somebody who was a Taekwondo instructor, who runs a Taekwondo school, and I said cool," said Shawn. Ever since, Taekwondo has become a passion and a big part of his life. Shawn is part of the Chung Do Kwan Taekwondo school here in Lincoln, where he trains three to four times a week. The school instructors are also the Sport Directors for the Cornhusker State Games Taekwondo competition.
One of the main reasons Shawn got into Taekwondo was to develop self-confidence. Although Taekwondo isn't considered as intense as some of the Martial Arts, it is still a sport in which you will fight. "Having the courage to step on the mat and get ready to fight gives you a lot of confidence not only in the sport but also in other aspects of life as well; it has made me a better person," Shawn said.
One of the cool things about Taekwondo and Martial Arts, in general, is all the life lessons you can learn. "Through the years, I have learned perseverance, integrity, self-control, and an indomitable spirit," said Shawn. Shawn explained how it could take someone up to three years to earn a Black Belt, which shows the perseverance a Taekwondo fighter must have.
With a 5th degree Black Belt, Shawn, will enter the Cornhuskers State Games (CSG) for the 18th year in a row. He began competing in the Games back in 2003. One of the things he loves about the State Games is that it resembles the Olympics. "I have always loved the Olympics, so thinking that there is something like the Olympics that I can compete in was cool, and that's what the Cornhusker State Games offers," Shawn said.
The list of accomplishments Shawn has had over the years is impressive. Still, one of his most significant achievements was winning the Grand Champion Trophy at the CSG, which is the best overall competitor regardless of age. Shawn has also won multiple gold medals at the State Games and other Nebraska tournaments.
For Shawn, training is constantly ongoing. " I'm always kind of trying to get myself in a certain level physical shape. Leading up to the games, we start to spar (fight) more, so our technique can be perfect," he said.
As Shawn is gearing up for the 2021 Games, he trains hard as he prepares to potentially win another gold medal and gain more self-confidence along the way.