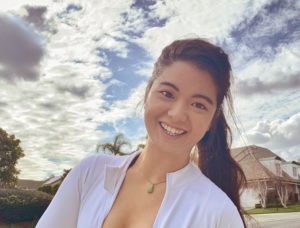 When Linda Huynh competed in her first Powerlifting competition four weeks ago, she didn't expect to get second place.
"I was surprised because not only was it my first time competing, but my hip was hurting that whole day when I was competing," Linda said.
The Orange County, California native, started Powerlifting two years ago when she moved from Orange County, California, to Omaha, Nebraska as a medical student. "I have only been training seriously for about a year, so I am excited to see the results," said Linda.
Linda's passion for Powerlifting stems from her competitive drive and giving her a distraction from the rigors of medical school. "When I started weightlifting two and half years ago, I got addicted to the results, so I wanted to give Powerlifting a try. I love competing with myself," she said.
For many athletes, their sport can often be a distraction from the busyness of life. Since Linda regularly studies anywhere from 10 to 15 hours a day for medical school, Powerlifting gives her an outlet to pause and find peace.
This year will be Linda's first time competing in the Cornhusker State Games. "I want to stay disciplined this summer, so I can continue to get stronger and so I can challenge myself," she said. Linda is also excited to meet new people and develop a community this summer at the CSG.
Success with Powerlifting starts with disciplined training. Having a consistent training plan is a huge key for setting a new personal record. Although Linda is busy with medical school, she still finds time to train. "I usually go to the gym three to four times a week. I work on my cardio fitness as well, along with eating a healthy diet," said Linda.
One of Linda's goals coming into the Games is to translate the one-rep max lifts she performs in the gym and lift that weight at the meet. She also wants to stay mentally sharp before she begins her lifts. "I want to be confident every time I step up and do my lifts. The 10 to 15 seconds before the lift are the most important," she said.
As Linda continues to train and study, she is excited to see how much she can improve and find contentment in the process.