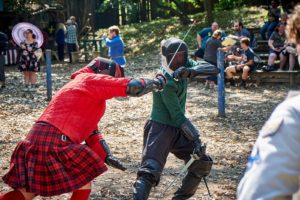 A recent admiration for fencing has inspired 35-year-old Russell Bradley to go headfirst into the world of fencing. Originally from Papillion Nebraska, Bradley gained a love for the sport four years ago after taking a fencing class. After this experience, he was intrigued by the whole dynamic of fencing and decided to continue competing.
What drew Bradley into fencing was that it "was very much like human geometric chess," he said. Fencing makes him feel young at heart and is both rewarding and stress-relieving. Bradley admires the sport so much he decided to open up his own fencing school. Bradley now runs the Omaha Metro Armed Academy in La Vista, Nebraska, and shares his love of fencing with others.
He enjoys that he has grown a community of people there with all different experience levels. "The opportunity to grow people into better versions of who they want to be is worth it for me," he said. He loves coaching and teaching people all about the sport. For Bradley, one of the best things is encouraging people to be confident fighters.
When he initially developed an interest in the sport, he also started getting involved in the Cornhusker State Games. This year will be Bradley's 4th year competing in the fencing HEMA and energy sword events. He loves the CSG because of how inclusive it is to people of all skill levels and its openness to the public. Bradley has made a lot of friends during the CSG through connecting with people who share the same interests.
Some of his achievements include consistently bringing home gold and silver place medals at the CSG as well as national competitions. Bradley also attended CombatCon in Las Vegas, which is a national tournament, and he finished in the top 10 in almost all of the events in which he competed.
These achievements don't come without training, of course. Bradley expressed that he does a lot of sparring as well as frequent strength drills. He also said that he follows a boxing training regimen to keep up footwork and endurance.
For Bradley, his recent passion towards fencing has only grown, and the CSG has helped him do that. "I enjoy the mental and physical exercise of trying to outsmart your opponent," he said. Each year his enthusiasm for the sport grows and grows.
As Bradley prepares for the upcoming Games, he can't wait to compete with others who enjoy fencing as much as he does and continue to be a part of the CSG community.
---
Registration is currently open for the 2020 Cornhusker State Games. Featuring competition in 70 sports, participants can find more information and register online at our 2020 Sport Listing