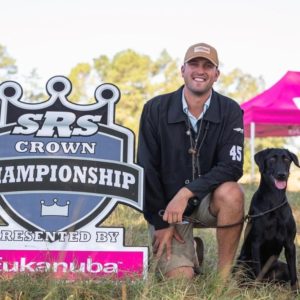 When Cole Scott asked about adding a dog event to the Cornhusker State Games (CSG), the response was intriguing. For a time, the Games had sports involving horses, but never a dog sport. That all changes in 2020, when the Super Retriever Series makes its CSG debut, with Cole Scott as the sport director.
"What better sport to have in the CSG than to have something with your house pet," Scott said.
The Super Retriever Series is a competition that mainly focuses on Labrador Retrievers and their ability to have their memory tested. Each dog has to have an accumulation of several different strengths to compete at this level. These abilities include a memory test, obedience test and a stamina test.
The Super Retriever Series is a professional league of dog events that not just anybody can jump into and expect success in. You really have to work at it to get your dog to this level and ability.
In other retriever trials and competitions, you are unaware of your standing and positioning on the leaderboard. The Super Retriever Series is different, as after each run competitors are given a score. This feature is the only retriever trial where competitors know where they stand. "I know what I have to do to be at the top," Scott said. He enjoys this aspect as participants know where they are in relation to others during the competition.
Scott wanted to be the director of this event because it has done so much for him and it's a great way to give back to the sport. There hasn't been a Super Retriever Series event in Nebraska for over ten years and he wanted to bring it back to the central location.
He has been involved in the event for three years but has watched it from a young age. The sport is on ESPN as a high-level retriever competition.
Every sport has a unique aspect of enjoyment after seeing the outcome of all your hard work. Each dog trainer in the super retriever series takes on a coaching approach as they must work as hard as they can to be at this level and ability. It is a significant accomplishment to go out and compete with some of the best in the world. In this dog event, you get to experience that feeling each time.
In Nebraska, dog sports in general are popular, but the Super Retriever Series hasn't been brought to the state for a long time until now. That being said, ever since announcing the event will be coming to the state, Scott has had some serious traction from people all over Nebraska.
"Hopefully, this is the spark of something really big for the super retriever series and for Nebraska," he said. Scott wants to bring the Super Retriever Series back to the state every year.
The event is run through the United Kennel Club (UKC), which offers several dog sports. Just bringing the Super Retriever Series to the CSG is significant as eventually, more dog sports have the opportunity to funnel into the Games. With the expansion of dog events in Nebraska, the sport is more widespread to all types of dogs and people of all abilities and ages.
People and pros from all over the country are planning on coming to the event. Scott wants new people to come ready to learn as with one competition, participants will learn so much about the sport. "Have fun and bring your sunscreen," he said. Anyone can participate if they put their mind to it as the sport is continuously growing and developing each year.