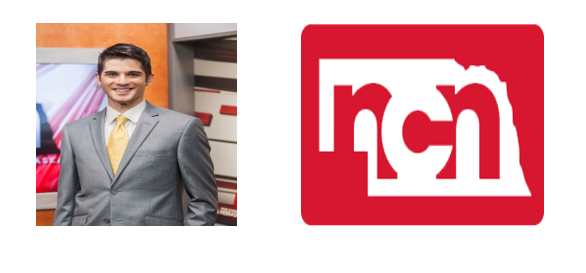 High school sports can often be the pride and soul of many small towns in Nebraska. This pride, however, does not get noticed nearly enough. For News Channel Nebraska, showing this passion through high school sports broadcast is their bread and butter.
News Channel Nebraska (NCN), which Flood Communication LLC operates, began its operation in 2015 in Norfolk, Nebraska. NCN boasts the largest TV news coverage in all of Nebraska. NCN currently has two tv stations and eight radio stations throughout the state. In total, NCN reaches around 550,000 people on TV across the Cornhusker state. NCN's reach significantly increased three years ago when the network was put on Spectrum TV. The cable company's statewide distribution allowed NCN to reach more homes than ever before. Since then, NCN has grown into a popular news source for many Nebraskans.
News Channel Nebraska's mission is to connect the entire state. That was the vision of founder Mike Flood who started the TV network six years ago. Historically, the state's two biggest cities, Lincoln and Omaha, get the majority of the state's media coverage, so NCN aimed to change that by shining a light on rural towns and providing the same media recognition to those communities. What drove this idea was Flood's realization that many Nebraska residents felt more connected to neighboring states than the one they lived in. For example, people out in the panhandle felt more connected to Colorado or Wyoming rather than Nebraska. Being inspired by NCN'S motto," Small Towns Matter", the station has connected people west to east by providing the most comprehensive news coverage for all Nebraskans.
News Channel Nebraska has gained a ton of popularity by televising high school sporting events on a weekly basis. On average, NCN broadcasts more than 200 live sports events a year. NCN covers football, volleyball, softball, basketball, wrestling, soccer, baseball, and track contests. On a given week in the fall or winter, NCN can televise more than 10 different high school games.
One of the leading voices of News Channel Nebraska's sports team is Brandon Aksamit. Whether it's football, basketball, volleyball, or softball Aksamit does it all. The Lincoln native began his broadcasting career as an intern at NET, where he was a part of Big Red Wrap Up as the social media intern. While he was interning at NET, he also interned at HuskerVision. After graduating from UNL in 2012 Aksamit worked as a freelancer for more than two years before getting his first full-time job at a radio station in Nebraska City. From there, he would go on to become a full-time employee with NCN. Over the past seven years, Aksamit has worked in a variety of roles for the company, making stops in Columbus, Grand Island, and Norfolk before returning back to his hometown of Lincoln.
Currently, Aksamit serves as the Director of Sports Content for NCN. "I'm in charge of our whole statewide operations in terms of our live sporting events, scheduling, staffing crews, working with the NSAA, doing all of the behind-the-scenes stuff, and calling games," Aksamit explained. Aksamit is one of the many talented sports announcers and employees at NCN.
For the 2021 Cornhusker State Games, NCN will broadcast the Opening Ceremonies on July 16 and the Men's Basketball Championship Game, on July 18. NCN is excited to broadcast these CSG events to continue to unite the whole state.