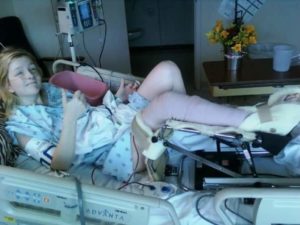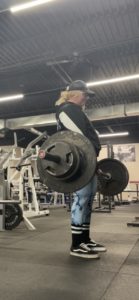 People deal with tragedy in many ways. For Elyse Kenney, she uses powerlifting as her therapy.
The 31-year-old from Omaha has persevered through critical hardships in her life.
In 2008, when Kenney was just 16, she was involved in a catastrophic car accident that put her in a wheelchair.
Kenney suffered an open fracture of her right femur and knee cap as well as several broken bones in her right ankle.
After many surgeries to fix her leg, she was finally able to walk a year and a half later.
Since then, Kenney has gotten the opportunity to regain her mental and physical health, receive two associate degrees from Metro Community College and raise her six-year-old daughter, Emma.
However, in April 2019, tribulation occurred once again when Kenney's brother, Dylan passed away.
The death of Dylan shook Kenney to her core. This taught her to be as impactful as possible and to do the things she loves while she's on earth.
"He was and still is a big motivational factor to me," Kenney said. "I mentioned something to him years ago about wanting to compete in strength training with him."
Because of this promise, Kenny has decided to compete in the Cornhusker State Games for the first time.
The event? Powerlifting.
Needless to say, powerlifting is a very strenuous activity. Especially if the athlete has only been competing for four months.
"I never played any sports growing up," Kenney said. "I just want to push myself out of my comfort zone. There have been plenty of times when I've thought about quitting.
For Kenney, powerlifting gives her the adrenaline rush that she needs. Despite the feeling of occasional doubt, she enjoys the sport.
"I wish I would have gotten into powerlifting sooner in my life, that's for sure," Kenney said.
When asked if there was a word that described her personality, Kenney said "goal-driven".
"If I start something, I have to finish it," Kenney said. "I'm 31 years old competing in powerlifting for the first time. That proves that it's never too late to get into something."
Once Kenney started her powerlifting journey in January, her daughter Emma started to lift smaller weights with her.
"I hope powerlifting is something that I can get her into," Kenney said. "She's been another motivational factor, I want her to see me accomplish something that is really hard."
This year's Cornhusker State Games Opening Ceremonies is set for Friday, July 15. The show begins at 8 p.m. at Seacrest Field in Lincoln. Registered athletes who come early from 4:30 – 7 p.m. can enjoy the free athlete meal at Sports Fest. Cornhusker State Games USA Power Lifting takes place on Saturday, July 16 and Sunday, July 17 at Lincoln Northeast High School.
Find more information at https://www.cornhuskerstategames.com/sports/powerlifting/.
"I wanted to compete with my brother someday and that got taken away," Kenney said. "I will keep that promise that I made to him".