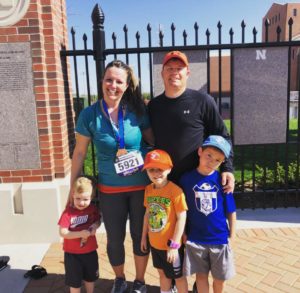 The Cornhusker State Games (CSG) Virtual Torch Run is an opportunity for Nebraskans to embody their community and be active. For Gina Stukenholtz, it's the perfect opportunity for her to do what she loves, all while representing her county. This will be her first-ever Torch Run and a virtual one at that.
The 36-year-old teacher from Papillion is representing Sarpy County and running five miles in the 2020 Virtual Torch Run. Stukenholtz is participating because it's a way for her do what she loves, run. The event also allows her to share the importance of being healthy by motivating others.
Stukenholtz has a passion for sports in general and got into athletics at age 10 and played every sport that she possibly could. She played seven different sports in high school and then went on to play college basketball. After college, she developed an admiration for running and it filled the void of all the sports she played while growing up. She has been running ever since finding the passion.
She cherishes the companionship and Camaraderie of sports, and she said running helps her relieve stress. Stukenholtz uses sports as a common bond as it brings her back to all those memories of being active growing up.
"Sports has always given me an outlet; it's always given me a great set of social relationships," she said.
Her athletic career doesn't stop there as she is also a coach and plays on a women's volleyball team, which has participated in the Cornhusker State Games (CSG). She uses this as another way to train and the team practices every week. Having played in the CSG Volleyball tournament is what gave Stukenholtz a push toward the Torch Run.
Stukenholtz also said her viewpoint towards sports continues to shift–the older she gets, the less competitive she is. "My priority now is to have fun and stay fit," she said.
The mother of four likes to be physically active to set a good example for her children to stay healthy. She believes that if she shows her kids how rewarding athletics can be, they too will want to experience the same satisfaction that she has.
Stukenholtz doesn't just participate in sports for her own benefit but does it to help other people too. She has partaken in the Leukemia and Lymphoma Society team and training program as well as the St. Jude Country Music Marathon in Nashville, which raised over $30,000 for patients. Both of these events were extremely fulfilling to her and represented a good cause.
Stukenholtz has had sports lead the way all her life and can't wait to participate in the CSG. She is excited to represent Sarpy county by running five miles in the 2020 Virtual Torch Run.
---
Registration is currently open for the 2020 Cornhusker State Games. Featuring competition in 70 sports, participants can find more information and register online at our 2020 Sport Listing