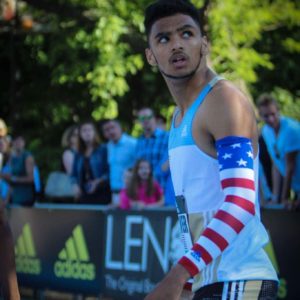 While 19 years old may seem a little late to jump-start a track career, that is not the case for Micah Beaver.
The now 23-year-old from Missouri is a successful track athlete who will be competing in his first ever Cornhusker State Games this year.
Beaver is a highly competitive sprinter currently sponsored by Adidas. Opportunities like this have given him the chance of a lifetime. He has run on TV and flown across the country to compete in races.
Beaver has run against some of the fastest people in the world, including Michael Norman, who holds the world's best time for the indoor 400 meters.
Beaver continues to compete for Adidas while also avidly training for the Olympic trials in June. This high level of competitiveness requires extensive training on Beaver's part.
Beaver works out 2-3 times a day, focusing on heavy Olympic style weight lifting. He also does a significant amount of explosive training, including jumps and sprints. Technique training is another big part of his workout regimen that helps him prepare for races.
On the side, Beaver still manages to train other kids and share his love of track with others.
It's not easy balancing all this for Beaver, but he strives for this lifestyle, and track has saved him in many ways.
"Always striving to be better and taking in the opportunities is what it's all about." "It's harder than it sounds, but the experience is like no other, making it all worth it in the end," he said.
The motivation from his team and family is what drives him to be the best. They are everything to him and a big part of his success in the sport.
There's nothing better than the bond of track to Beaver. "Track has done a lot, more than I can thank," he said. For this reason, Beaver continues to compete and will race in the 100 meters at this year's Cornhusker State Games.
---
Registration is currently open for the 2020 Cornhusker State Games. Featuring competition in 70 sports, participants can find more information and register online at our 2020 Sport Listing