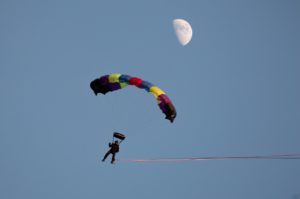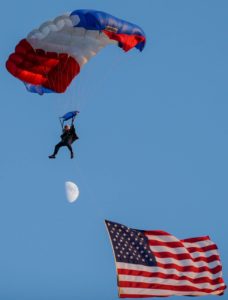 (Left: Blacksher, Right: Bartlett)
For some people, skydiving isn't something they would ever dream about doing. But for two Lincoln natives, Larry Bartlett and Mike Blacksher, jumping out of a plane at 23,000 feet is almost second nature.
Nearly every year since 1988, the duo has been called upon to skydive onto Seacrest Field in Lincoln for the Cornhusker State Games Opening Ceremonies.
Both of them have long been involved in skydiving. Bartlett, 71, first started skydiving in January 1970. Blacksher, 74, jumped out of his first plane in June 1974.
Even though skydiving may be instinctual at this point for Bartlett and Blacksher, they say nerves almost always arrive before the big jump.
"It's always in the back of your mind," Blacksher said. "You're usually aware of what you're about to do and what needs to go right. Many spectators are watching us jump and land, so we want to ensure there are no errors."
Both of them don't just skydive for fun all the time; they jump to compete. They have participated in various Cornhusker State Games skydiving events throughout the years.
Bartlett and Blacksher beamed enthusiastically when asked how Cornhusker State Games have impacted their lives.
"Since 1988, we have made many friends because of the Cornhusker State Games," Bartlett said. "Some friends are still there that we see in the bleachers every year, and some have passed. It's always fun to go back to Seacrest Field and see the old faces at Opening Ceremonies."
Skydiving brings some of their life's favorite memories, Bartlett said.
"My most unforgettable memory took place in July of 2004. We parachuted with 20 people onto Seacrest Field for the 20th anniversary of the Cornhusker State Games."
This year's Cornhusker State Games Opening Ceremonies are set for Friday, July 15. The show begins at 8 p.m. at Seacrest Field in Lincoln. Registered athletes who come early from 4:30 – 7 p.m. can enjoy the free athlete meal at SportFest. Cornhusker State Games Skydiving takes place on Saturday, July 16 and Saturday, July 23 at Brown's Airport in Weeping Water.
Find more information at https://www.cornhuskerstategames.com/.