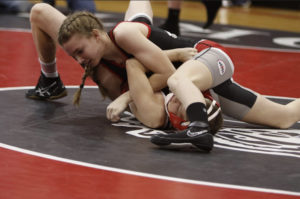 Jolyn Pozehl just wanted to follow in the footsteps of her two older brothers. At age 8, after repeatedly watching them succeed in wrestling, she decided that it was her turn to shine.
Thanks to her two older brothers, she got introduced to the sport at an early age and became invested ever since. She is now 13 and her passion for wrestling has only grown.
Pozehl loves wrestling mainly because she enjoys meeting so many new people, and it makes the sport more personal. Each match in which she competes gives her excitement and adrenaline that is like no other.
Pozehl is from Long Pine, NE and wrestles for both her middle school and a club team. She strives to get in as many matches as possible in hopes of continuing to compete at the high school level.
Unfortunately, girls high school wrestling is not a sanctioned sport in the state of Nebraska. Girls can compete in the sport, but have to compete against both boys and girls.  Pozehl has joined other female athletes in the push toward sanctioning girls wrestling at the high school level. This challenge continues as the Nebraska School Activities Association Board of Controls voted May 21 against adding girls wrestling for the 2020-2021 school year.
When Pozehl saw that the Cornhusker State Games (CSG) offered girls wrestling, she immediately was intrigued. This upcoming year will be her 2nd year competing in the CSG. Pozehl likes the Games because of how friendly and supportive all the participants are.
When it comes to her success in the sport, Pozehl gets a lot of input to be the best that she can be. She is very competitive and makes sure to train hard before each match. She gets feedback from her coaches, dad, and brothers who help her succeed.
This hard work and dedication have paid off for Pozehl as she made it to nationals last year. She got 2nd place at USA State and 2nd place at Girls Huskerland. Pozehl also wrestled for the NE girls' duals teams at the AAU Middle School National Duals.
Pozehl wants girls wrestling to be a sanctioned sport in high schools, but until then, she continues to wrestle both genders. Something she loves about it is that there are other advocates for girls wrestling that want to help advance it as well.
She has experienced so many positives on her journey that she tends to overlook the negative comments. Some critics don't like that she stepped out of the box and defied the norms. "There is always going to be people hating because you're a female wrestler, but let that motivate you to do better," she said.
Even after some negative feedback and criticism, Pozehl still comes out strong thanks to those that spread encouragement. Many people are very supportive of her being a female wrestler. "A lot of people come up to me and tell me good job and tell me to keep going," she said.
Her advice to other girls that want to take on wrestling is, "you just need to keep going forward and not get down on yourself," she said. You can always improve.
---
Registration is currently open for the 2020 Cornhusker State Games. Featuring competition in 70 sports, participants can find more information and register online at our 2020 Sport Listing