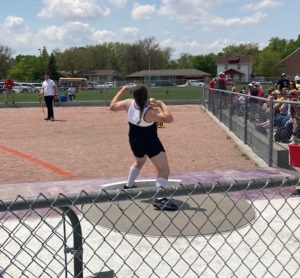 Sometimes you don't know how good you are at something until you try.
That is the case for 13-year-old Shot Put and Discus thrower Karlene Kepler. The Springview, Nebraska native just completed her first year in throwing, and she has found a talent she never knew she had. "Throwing is a skill I never thought I had and would like," said Karlene.
Karlene got into throwing because she wanted to try out many of the sports in junior high, so she knew what she would like going into high school. Karlene remembers when she started throwing at practice, and she could tell she had some talent. "I was throwing far in practice and started to enjoy it," Karlene said.
The three-sport athlete (Volleyball, Basketball, and Track and Field) loves throwing because she can compete with herself every time she steps into the ring. "When I step into the ring, my goal is to set a new personal record every time," said Karlene.
This year will be Karlene's first time competing in the Cornhusker State Games. She is excited to bring her talents to Lincoln and show what she can do. She is looking forward to meeting new people and competing in a bigger meet with good competition.
Although Karlene has only been throwing for less than a year, she has performed at a high level. She took home the gold in the Jr High Track and Field State Championship in the Shot Put and placed 9th in the Discus. Karlene's performance is impressive because she competed against girls from all Nebraska classes (A, B, C, D). Unlike the High School Track and Field Championships, the Jr High Championships combine all classes.
Karlene's goal for the State Games is to beat both her Shot and Discus personal bests. "By the time I get into High School, I want to throw 36-38 ft in Shot and get into the 100's in the Discus," Karlene said.
"The biggest life lesson I have learned is that nothing is ever given; you have to earn it," Karlene said. As a result, Karlene is motivated to continue to improve.
Cornhusker State Games Track and Field takes place on Saturday, July 17 at the Lincoln High School Track. Organizers expect more than 500 athletes in the Track and Field Meet and more than10,000 overall participants. Find more information at https://www.cornhuskerstategames.com/.