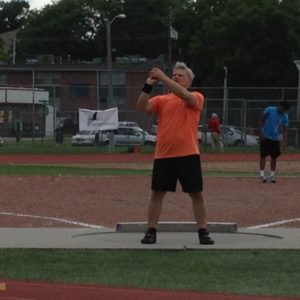 Garet Moravec brings a lot of unique experiences to his sport. The former semi-pro and national champion baseball player currently serves as the Sports Psychologist at Omaha Westside High School, as well as a football coach.
With his background in Sports Psychology, Garet can use his skills for the sport he loves, Track and Field.
The 65-year-old resident of Bellevue, Nebraska, was first introduced to Track and Field in high school as a sprinter. His dad sparked his love for Track during his senior year. "One year, my dad, at the age of 65, competed in a track meet, and I remember watching this 95-year-old guy compete, and I told myself I want to be that healthy someday", said Garet.
That dream is now a reality for Garet. Garet currently competes in the 65-69 Masters age group, where he throws Shot Put and runs the 50 and 100-Meter dash. He will compete in all three at the Cornhusker State Games.
This year will be Garet's third time competing in the State Games Track and Field Meet. Every year he looks forward to meeting new people and setting new personal bests.
"I love the CSG Track Meet because it is really well organized. The people who help run it care about you, and want you to perform well," Garet said. He enjoys the competitive nature of the Track Meet and the fun environment it provides for all the athletes. Garet talked at length about all the life long friends he met at the Games.
To stay in the best shape, Garet trains at a high intensity. "I do a lot of weightlifting and hill running to work on my strength and speed endurance," said Garet. He also goes to the Track two or three times a week and meets with other coaches to work on his throwing for the shot put.
A large part of Garet's training is taking exceptional care of his body with proper nutrition, adequate sleep, and removing any stress. He said his biggest tip for those wanting to compete at a high level in athletics is to take care of their bodies and mental health. "As you get into the Masters level, you must take great care of your body," he said.
Garet earned his first medal in a meet in Iowa. He is looking forward to improving his accomplishments and gathering up more hardware. His goals are to be his personal best in every event. "I tell the athletes I work with not to compare themselves to anyone else. You are only competing against yourself. Every time I step on the Track or the ring, my goal is to improve my personal best," said Garet.
Cornhusker State Games Track and Field takes place on Saturday, July 17 at the Lincoln High School Track. Organizers expect more than 500 athletes in the Track and Field Meet and more than 10,000 overall participants. Find more information at www.cornhuskerstategames.com