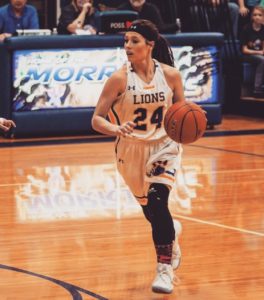 Having lived in Morrill, NE her whole life, Ilycia Guerue loves representing her home town through athletics. She competes in basketball, volleyball and track at Morrill High School.
The 17-year-old began her basketball career in 3rd grade when her dad became a basketball coach and the sport intrigued her. She immediately fell in love with basketball and wanted to play. Guerue then started playing volleyball and track in the 7th grade. From that point on, sports became the main component of Guerue's life.
She takes sports very seriously and trains hard for all three to be successful each season. Guerue runs and lifts daily to build strength and speed. After one sports season ends, she starts shifting her devotion to the next one. Since she focuses most of her attention on athletics, staying active year-round is crucial. "I'm playing to win, so it's not about playing just to play it's about being the best out there," she said.
She loves how competitive sports are and the life lessons that they teach. Being with a team and being in an environment full of teamwork is incredible to her.
She is highly involved and likes to keep herself busy. Besides sports, Guerue also participates in FBLA, National Honor Society and Spanish Club. She is a competitor, always wanting to be the best, no matter how hectic life gets.
Guerue suffered a setback during her sophomore year when she tore her ACL. This injury required a break from sports and a lot of rehab. After stepping back and focusing all her attention on getting better, she recovered and came back stronger than ever.
All this hard work has paid off as Guerue is a successful athlete and has achieved many accomplishments throughout the years. She received Player of the Year for WTC and PAC Player of the Year twice for basketball. Guerue also received All-Conference and Academic All-State two times for all three sports. With basketball being her primary sport, she leads the state in steals and free throws. Guerue also has broken the career record for steals, rebounds and free throws at her high school.
Playing three sports all while going to school and being involved in clubs can be a lot for one person. Guerue has to utilize every second she can to stay on course. Each sport has different training and specific requirements that she has to keep up with.
Volleyball, basketball and track are all such different sports and each one offers a unique learning experience. "One sport just helps so much with another sport," she said.
This upcoming year will be Guerue's first year competing in the Cornhusker State Games (CSG). She wants to play as much of each sport as she can to improve and prepare for each season. "I want to be the best and just win everything and that's what motivates me to see how good I can get," she said.
Athletics have been Guerue's entire life and bring her so much happiness. Every opportunity she gets to compete she takes, which is why she is competing in the CSG. The three sport athlete hopes her athletic career takes her far and she aspires never to stop competing.
---
Registration is currently open for the 2020 Cornhusker State Games. Featuring competition in 70 sports, participants can find more information and register online at our 2020 Sport Listing