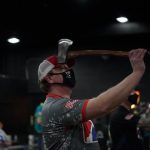 Sooner or later, you are going to hear about the new sport, Axe Throwing. In the last couple of years, Axe Throwing has become a popular activity. Not only is Axe Throwing deemed a fun activity by some, but it is also a competitive sport athletes, like 42-year-old Ryan Chilson, take seriously.
Originally from Huron, South Dakota, the former Marine always enjoyed taking his parent's kitchen knives and throwing them at trees when he was a little kid. When he was older, he decided to take it to the next level. "I actually stepped it up a little bit and built a fairly large target in my backyard that I used for practice with my knives, and tomahawk. I enjoyed practicing my throws," said Ryan.
For Ryan, the initial interest to Axe Throwing stemmed from his time in the military. "In the military, I was challenging myself in different ways, and Axe Throwing provides that. Axe Throwing helped fill that void in my life. It was also a way to compete against my peer group and push myself to accomplish something," Ryan said.
Ryan's Axe Throwing journey began, when his work decided to do a team-building activity at a local Axe Throwing facility. After the team-building, he instantly fell in love with the sport. He loved it so much, that he wanted to join a competitive league. Ryan's friend also wanted to join a league, and they found one in the summer of 2019, in La Vista, Nebraska. Ever since, Ryan has been throwing competitively.
One of the things Ryan loves the most about Axe Throwing is the community.  "I've never seen a sport, where in the middle of competition, your opponent will give you the advice to help you do better. When we go to events around the country, we see 80% of the same group at every tournament. Everyone from around the country is traveling to all these tournaments" said Ryan.
Although Ryan has only been throwing competitively since 2019, he has some incredible accomplishments to boast. He placed 1st in the 2021 Winter Regional, and he brought home the gold, finishing 1st in the duals at the 2020 Angrywood Major. Ryan's most memorable achievement was placing 1st in Big Ax, Hatchet, and Duals events at the 2021-Mile-High Tournament in Denver, Colorado.
This summer, Ryan will bring his talents to the Cornhusker State Games for the first time in the inaugural Axe Throwing event in July.
Any serious athlete understands that if they want to perform their best, they must train at a high level. The same goes for Axe Throwing. "We have weekly leagues, so there's that participation. I also have a target in my garage to go out and practice whenever I want. There is also a lot of mental prep, as well as the physical aspect of it. Once you get into the competitive level, you're looking to make changes to your form and your technique," Ryan said.
As the sport of Axe Throwing continues to grow, Ryan is excited to see more and more people try the sport and meet new people at the 2021 Cornhusker State Games.
.