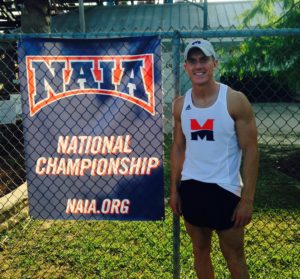 It's never too late for a change of heart. For Caleb Franklin, wrestling was always his top priority in life. After wrestling in high school and then onto the college level at Midland University, it seemed as if his future was clear. That was until he discovered track.
The 27-year-old from Oakland, Nebraska shifted gears entirely at the college level. He switched from competitive wrestling to track halfway through his college career in 2013. From that moment on, track was the top priority in Franklin's life and was what pushed him not to take life so seriously.
Franklin loves track because "it's all based on how much work you put in," he said. After a big adjustment from wrestling to track, he started to put in more hard work and dedication towards the sport. This led to him breaking the school record for the 100-meter dash and qualifying for nationals as well as being a second-team All-American at Midland.
After graduating and closing this chapter of his life, Franklin didn't stop there. He has recently started competing again, and this past February was invited to the USA Indoor Track and Field Championships in the 60-meter dash, where he finished as a semifinalist. Franklin has also recently started his own track club for track and field athletes of all ages.
Franklin has participated in the Cornhusker State Games since 2014. "I love seeing people of all ages compete in track and field," he said. Franklin likes that you don't get the CSG experience anywhere else.
This upcoming Games, he will compete in the 100-meter dash and is actively training for the event by doing sprinting drills and stretching daily to stay healthy. Franklin has been focusing on nutrition and recovery as he gets older to make sure that it is where it needs to be. He reminds himself just to go out there and have fun, and the rest will take care of itself.
When it comes to progress, it's all about mindset for Franklin. While working a full-time job, he still manages to find time to train. "I love it enough to where it's not hard for me to schedule it in every day," he said. Franklin has the outlook that since there are 24 hours in a day, you can take 90 minutes to practice and better yourself. He plans to compete for as long as he can. There are so many opportunities that go along with the sport, and it truly makes him happy.
---
Registration is currently open for the 2020 Cornhusker State Games. Featuring competition in 70 sports, participants can find more information and register online at our 2020 Sport Listing